Brands capitalize on falling rents to open Pop-Up Stores in Hong Kong's high-end shopping districts, and brands appear in malls they cannot typically afford 
Why is Lorraine Lam waiting in line for two hours at a tony Hong Kong mall to buy the same Nutella spread that grocery stores sell for much less?
So she can get her friend's name on the label. Nutella's Pop-Up Store in the Pacific Place center is swamped with customers willing to spend $HK80 ($10) for a 350-gram (12-ounce) jar of the hazelnut confection with a personalized touch. The Ferrero SpA brand is selling almost 1,000 jars a day from its counter.
"I rarely go to the mall because I need to take a one-hour bus ride to get here," said Lam, a 21-year-old university student. "But this time it's worth coming."
With retail sales in Hong Kong declining for 16 straight months, brands such as Nutella and Havaianas are capitalizing on falling rents to open temporary outlets in some of the city's high-end shopping districts. At the same time, anchors such as Nike Inc. are trying to generate more traffic by "popping up" in front of mall walkers with new or limited-edition products.
"Retailers are trying more aggressively to adjust to changing consumer demand by providing more 'special' and better-quality products," said Angel Young, managing director of market researcher Nielsen Hong Kong and Macau. "Pop-up stores bring new excitement to customers."
Malls like Pacific Place in Admiralty and Wharf Holdings Ltd.'s cavernous Harbour City in Kowloon long relied on a steady stream of mainland Chinese shoppers loading up on Louis Vuitton handbags and Cartier watches.
But now those high spenders are spurning Hong Kong in favor of Tokyo and Paris, while less well-heeled shoppers worry about China's decelerating economy and the city's social and political tensions, culminating in the violent Occupy protests. The number of mainland Chinese visitors to the city declined for a 13th straight month in June to 3.2 million, according to the Hong Kong Tourism Board.
That's triggering a decline in retail sales, which fell almost 11 percent during the first six months of the year, according to the Hong Kong government. Sales in June fell 8.9 percent, exceeding analysts' estimates.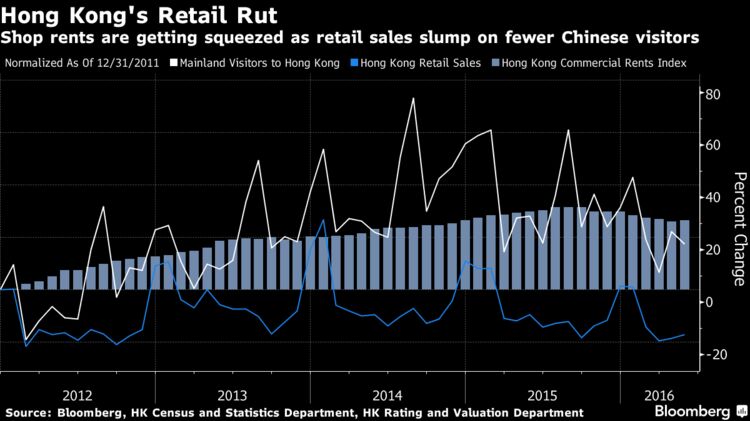 To cushion the blow, commercial landlords are searching for new ways to generate foot traffic at the bevy of malls. They're giving space to brands that typically don't cater to high-end shoppers, and they're allowing brands already there to experiment.
"Pop-up stores offer freshness," said Kitty Choy, director of the retail business for Hysan Development Co. "The element of surprise keeps shoppers anticipating to discover: What is going to come next?"
The company's Hysan Place in tourist-mecca Causeway Bay has hosted pop-ups featuring the Nike, Kiehl's, Uniqlo and Nespresso names. Also, Lululemon Athletica Inc. introduced Sunday morning yoga classes in the public space to generate buzz for its store.
Nike set up a miniature basketball court that also showcases its sneakers. The company uses pop-up retail around the world to offer unique products, analyze customers' running styles and support promotional tours by endorsers such as NBA superstar Kevin Durant.
"It's a great way to offer immersive experiences for consumers," the Beaverton, Oregon-based company said in an e-mail.
At Sun Hung Kai Properties Ltd.'s APM mall in Kwun Tong, one local celebrity is using a pop-up to launch his own brand of cookies. Actor and singer Nicholas Tse is selling four different flavors at his outlet until Dec. 1.
Pop-ups are coming late to Hong Kong after being regular fixtures in the U.S. and Europe for almost two decades. Opening small outlets in out-of-the-ordinary locations can help brands connect with customers that normally wouldn't shop in their traditional stores, said Michael Cheng, Asia Pacific & Hong Kong/China retail & consumer partner at PricewaterhouseCoopers LLP.
"It can be a good start for retailers," Cheng said. "If they can turn the traffic in the pop-up stores to long-term customers online, the model can effectively boost sales without signing long-term store leasing contracts."
Nutella, owned by Ferrero, opened its pop-up counter in Pacific Place on Aug. 1. On a recent weekday, the line of customers snaked around the counter and down the mall in front of sparsely populated stores.
Lam said she was buying jars as a birthday gift. After ordering, she had to wait about 20 minutes for the employees to personalize them.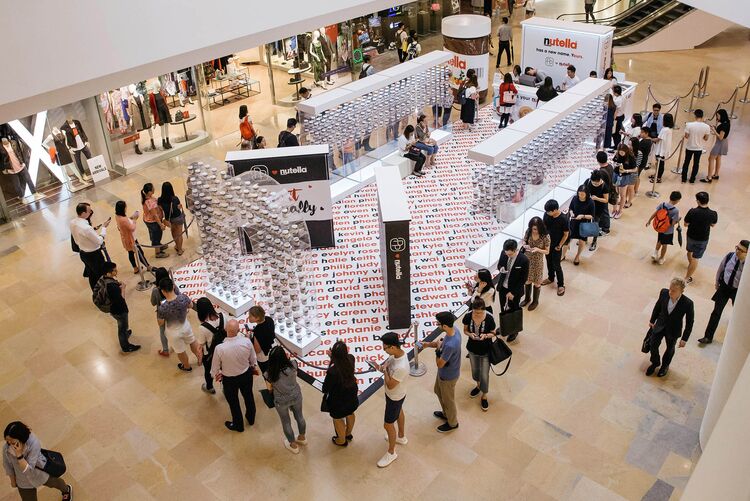 The company has sold more than 17,000 personalized jars from the pop-up, which closes Wednesday.
"We are very surprised and delighted to see the campaign has been so well-received by Hong Kong consumers,'' the company said in an e-mail.
Not too far away is a Mexican cafe that doubles up as a pop-up store for Havaianas flip-flops. At one end, people sit at converted 55-gallon drums having beer and nachos from the Brickhouse restaurant. At the other, customers choose from a rainbow-colored wall of flip-flops.
The open-layout store is selling 40 percent more shoes than the brand's traditional brick-and-mortar locations, said Peter Solomon, executive chairman of Havaianas' Hong Kong distributor Electric sekki. With regular stores, retailers need to pay for renovation, lighting and storage space. Pop-ups just need a counter and a display, he said.
"We will definitely open more pop-ups in Hong Kong," Solomon said. "We can take that model from location to location, using it multiple times."
by Daniela Wei and Frederik Balfour
Article sourced from Bloomberg 
Latest posts by Adrien Kerbrat
(see all)