One thing is for sure; experiential retail is the future. For years we've heard stories of the decline of physical retail and the rise of the internet. But, the desire for retail experiences has risen. Millennials now say 52% of their holiday spending would go to experience-related purchases. Enter: retailtainment.
As consumers are choosing to invest in experiences rather than products, retailers are trying to meet these new needs. Focusing on retailtainment, or immersive retail experiences, retailers are providing customers with fun, unique experiences that elevate the shopping experience to new heights.
With retailtainment, the retail industry is shifting attention from a features-and-benefits approach to a focus on immersive shopping and customer experience. To be successful, retailers must offer consumers a desirable retail experience to drive sales.
Farfetch: Creating a retail experience of the future
Farfetch, founded in 2008, is as an e-commerce portal for luxury boutiques. It's successfully positioned itself as a technology provider for brands, combining technology and fashion to provide unique in-store experiences.
José Neves, CEO of Farfetch, has spoken about his concern that physical retail is diminishing; it accounts for 93 per cent of sales today, but by 2025 is predicted to account for just 80 per cent.
Enter: Farfetch's Augmented Retail Solution
Neves' vision for retailtainment includes advancements in technology that would start to free up time and make the consumer experience more human. He produced Farfetch's Store of the Future, an augmented retail solution that "links the online and offline worlds, using data to enhance the retail experience."
In its retail store in London, Farfetch provided connected clothing racks, touch-screen-enhanced mirrors and sign-in stations that pulled data collected online to use in-store.
Farfetch provided customers with a sign-in screen to search their purchase history and wish list, which provided valuable customer insight for the sales assistants. There was also a smart mirror to request different sizes, alternative products or pay without leaving the dressing room.
This innovation led them to be labeled as "The Retail of the Future", allowing customers to enjoy an effortless experience that harmonizes the best parts of boutique shopping with the speed and convenience of online shopping.
Vans: A shopping experience to remember
The House of Vans in London lives up to the company motto of being "off the wall". A location where art, music, BMX, street culture and fashion converge, you can find almost everything you can imagine across the 30,000 square feet building. Amongst a cinema, café, live music venue and art gallery, the bottom floor holds the most unique feature of the building: the concrete ramp, mini ramp and street course.
Nothing better epitomizes the Vans brand than a space where young people can not only shop but spontaneously socialize. The House of Vans is the perfect example of how experiential retail can be used to empower a shopping experience.
Ikea: Using social media to power a unique retail experience
Ikea brought to life a unique experience to over 100 fans who won a Facebook challenge, letting them spend the night in its warehouse in Essex. They were able to select the mattress, sheets and pillows to fully give them a tailored experience to satisfy their needs.  A sleep expert was on hand with tips for getting a good night's rest, including how to find the perfect mattress for any sleeping style.
This was a clever and unique way to obtain visibility and get fans to focus on what Ikea has to offer and try it out for themselves.
This idea came from understanding their consumer insights on social media. Lois Blenkinsop, Ikea's U.K. PR and internal communications manager, said: "Social media has opened up a unique platform for us to interact directly with our customers. Listening to what they want is what we do best, and the Big Sleepover is just one example of how we're using such instant and open feedback to better inform our marketing activity."
From using social media they were able to apply experiential marketing to their retail strategy and provide their customers with a memorable event that brought the brand a ton of visibility and engagement.
Space Ninety 8: showcasing the art of retailtainment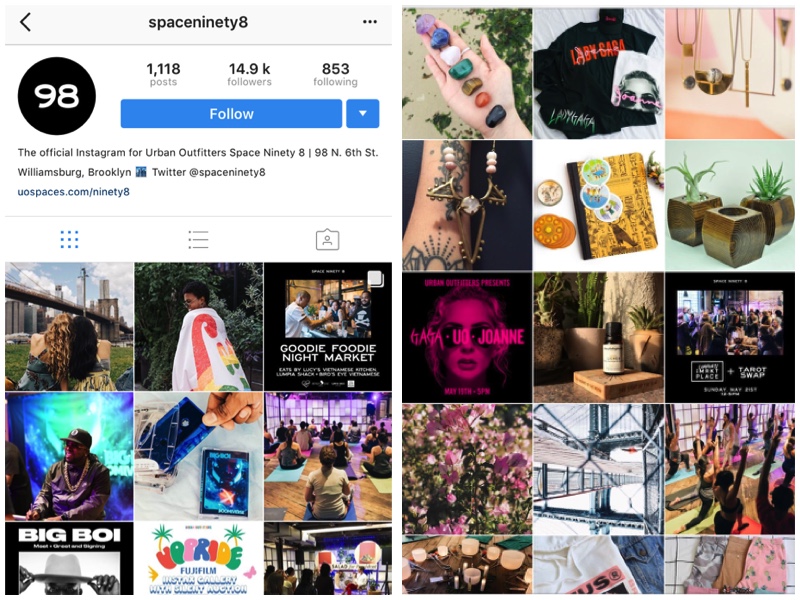 As a spin-off from Urban Outfitters, Space Ninety 8 is a shared retail space that spans 5 floors, hosting retailers, galleries and even a rooftop restaurant and bar.
Scanning their Instagram, you can see the variety of what Space Ninety 8 offers beyond solely retail. Advertised next to yoga classes is an album signing by Big Boi, alongside pictures of art classes and Lady GaGa merchandise. By reflecting the flexible nature of modern life, the brand created a versatile store that emphasizes experience, perfecting the art of retailtainment.
TOMS: creating an immersive experience through VR
Experiences don't have to be a permanent feature of a store in order to make an impact on customers. In 2015 TOMS' placed VR headsets into 100 stores, enabling them to virtually transport customers to Peru to see the impact of their One for One giving campaign on local people.
As you walk through the village with locals smiling and waving at you, it is impossible not to feel warmed by the friendly atmosphere. Not only did this retail experience improve awareness of their social corporate responsibility and promote their giving campaign, it also gave customers an unforgettable and immersive experience they were unlikely to forget.
[Check out Toms' continued focus on immersive retail experiences here]
How to Provide Retailtainment that Drive Traffic and Sales
These case studies all stress the importance of providing an in-store experience. These are 5 consistent elements each use to ensure a remarkable customer shopping experience:
Interactiveness: All of these retailers ensure that the senses are connected – memories of what we feel, hear, see, smell, and touch, may last a lifetime.

Originality: These ideas were all authentic and natural, making the customer feel as if they entered a different world.

Connectedness: Customers must feel that the experience has been created for them.

Unexpectedness: These unique experiences are critical to ensure your brand is remembered.

Reliability: The experience is executed through tested methods to achieve consistency and excellence.
The Future is Now
Experiential marketing isn't about spending millions on fancy gadgets for your retail store. Sure it can help, but it's mostly about a personalized shopping experience and providing an unparalleled retail experience for your customer. These case studies all demonstrate how it is possible to follow similar steps to overcome the challenges eCommerce has brought.
[For more smart ideas to steal from the latest experiential stores, read
this
]
For more on launching temporary retail stores and one-off events, download our Ultimate Pop-Up Guide and make your ideas happen.
What is a pop-up shop?